By Lyrical Hair Crizel |
12
April 2022 |
0
Comments
FOR NEWBIES, WHY IS SKIN BASE TOUPEE RECOMMENDED IN THE FIRST PLACE?
FOR NEWBIES, WHY IS SKIN BASE TOUPEE RECOMMENDED IN THE FIRST PLACE?

If this is your first time wearing a hair system, the skin toupee hair is a very good choice. One reason is that it gives the most natural hair line on the front. The second reason is that it is a full skin-based hair piece for men, so it is firmly attached to the head.

At Lyrical Hair we have full skin men wigs for baldness available on three different hair replacement thicknesses. Our thickness options include Ultra-Thin Skin hair toupees (0.03mm), Thin Skin toupee for men (0.04-0.06mm), The thinner the base, the more transparent it is.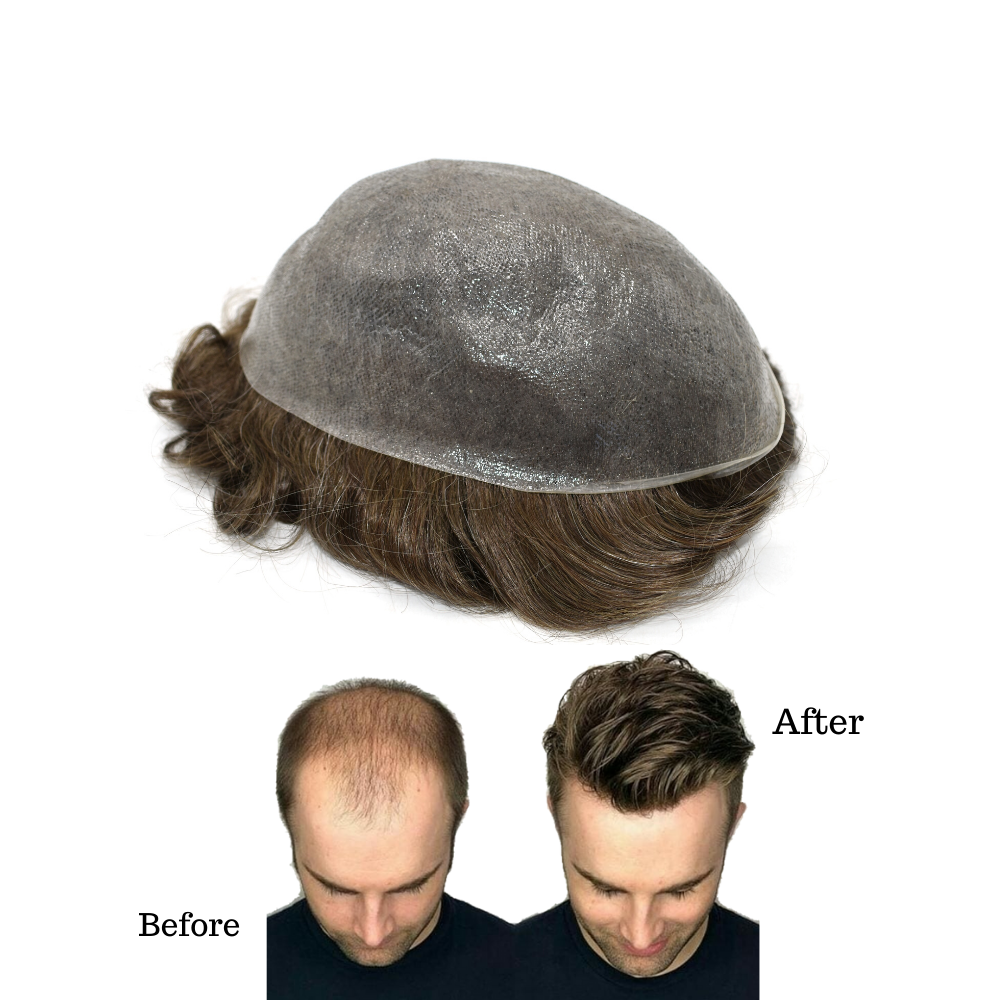 The ultrathin skin substrate is designed with an ultrathin material called polyurethane. The thinness of the material proves that it's lightweight and very lightweight. Because of its lightweight, invisible and fragile nature, it's the best choice for a skin like foundation, and it also looks like skin. When this ultra-thin hair toupee is applied to the scalp, if you separate the hair, it looks like your skin will appear between the hair. These men's ultra-thin skin hair toupees also have a very clear hairline, so if someone stands beside you, you don't have to worry about the toupee for men being recognized. When people praise your hair, you get the feeling that you know your money has been put in the right place, which is another matter. Hair bases use a knotted system for ventilation but in the ultra-thin Skin base of men's toupee hair uses the V-looped ventilation method. Since ventilation is essential for any men's toupee, this method of ventilation is up-to-date and sensible, and does not require tying techniques. the way hair adheres to this base is like it looks on natural hair growing on the scalp. it provides the most imperceptible appearance. And the men's toupee hair pieces are part of everyday life. No one wants people to know that they are covering up their shortcomings, perhaps women's make-up or men's hair systems. This type of thin skin base can provide a real solution for hair loss. Many men's self-esteem protectors around the world know about thin skin hair toupees. Therefore, the price point is a secondary factor based on the satisfaction it provides.
You can choose the density of the hair according to your own natural hair condition and preference, our density option varies from thin to thick: 80% -90%, 100% -110%, 120% - 130%. And we tie real human hair from thin too thick at the bottom. The design of this transition will look realistic, like hair growing from the scalp. The 100% -110% density toupee hairpiece is right and natural for many people.

Our product is well-loved and enjoyed by our customers all over the globe. We can help you cover hair loss problems and achieve different hairstyles instantly.

We are willing to negotiate to accommodate your needs.

Lyrical Hair Customer Service Department
Cell phone: +86-17806267480
WhatsApp: +86-17806267480
Email: [email protected]
Website: https://www.lyricaltoupee.com
Leave a Reply
Your email address will not be published.Required fields are marked. *